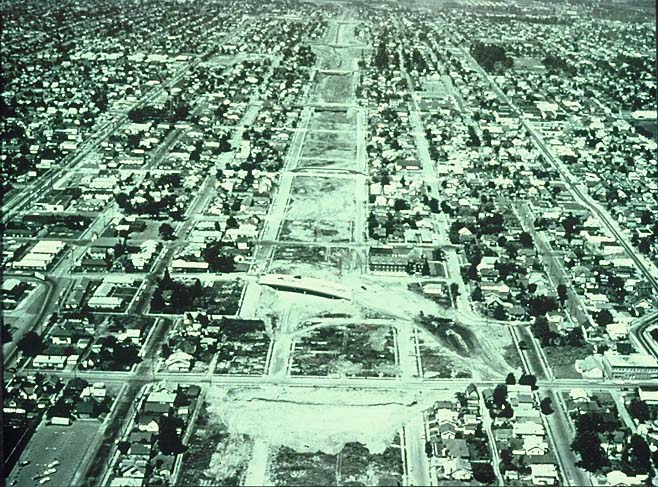 Portland's Freeway Names, Minnesota Freeway (now I-5):
The Freeway now known as I-5 was officially known as the EastBank Freeway, but quickly garnered the nickname of Minnesota Freeway.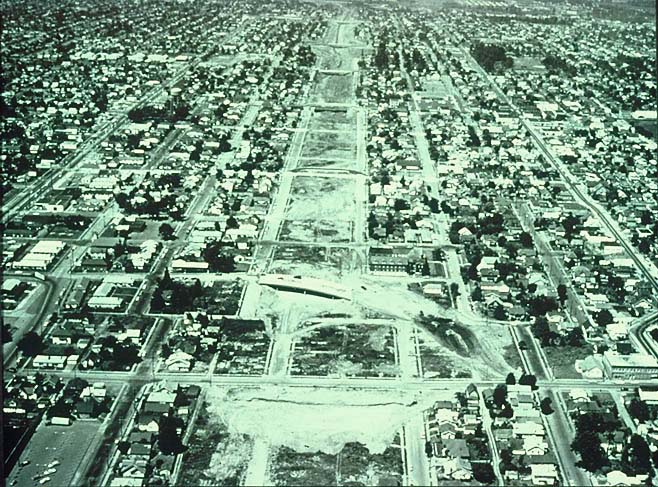 As you can see, the freeway project took up the entire block where Minnesota Street used to be, and thus it's nick name came into more common use. As far as I can tell, outside of official documentation from the City of Portland, Eastbank Freeway was rarely used. But the name "Minnesota Freeway" is still found on the Internet which causes some confusion as it's not commonly used any more.
Construction started in 1959, and ended up costing $22 million. The new freeway was pretty much rammed through despite citizen's protests and decimated entire African American Neighborhoods. Outside of the the African American Neighborhoods though, there seemed to be little protest over building the highway. No doubt a bit of racism played heavily into that.
By 1961, the planned road had taken over the 99W name from Pacific Highway. It was opened the morning of December 2, 1964, and businsses along Interstate Highway immediately knew they were done. It also lacked any type of environmental impact studies, or even basic economic studies!
Various documents claim that I-5 legally maintains the Pacific Highway name, but I am not able to officially substantiate that. Nor can I find when the road was officially named to I-5.
Next, War Veterans Freeway