**Update – Annual Business Services have updated their web site: http://annualbusinessservices.us/
Stay away from these people!!!****
The Annual Business Services Scam is an mailing coming in an official looking envelope. Upon opening it a form directs the company to fill out the form to "prepare and provide corporate minutes that meet the following requirements of law." This is usually followed by a paragraph from the legal code with the relevant legal statue quoted. They also instruct that the form be filled out and remitted with an $125 fee (check only.)
They prey on newly registered LLC and DBA companies, usually people who have never run a business before and who may not know what rules they actually need to follow. While far from the only companies that look at newly registered business names to generate sales leads, their tactics are comparatively dishonest.
The people perpetuating this scam appears to be running under multiple Company names in multiple states. National Corporate Research LTD has an huge listing of variations on this scam, including the business names being used. They note that in the fine print of the documentation (below) that there is frequently a variation on "This product has not been approved or endorsed by any government agency and this offer is not being made by an agency of the government."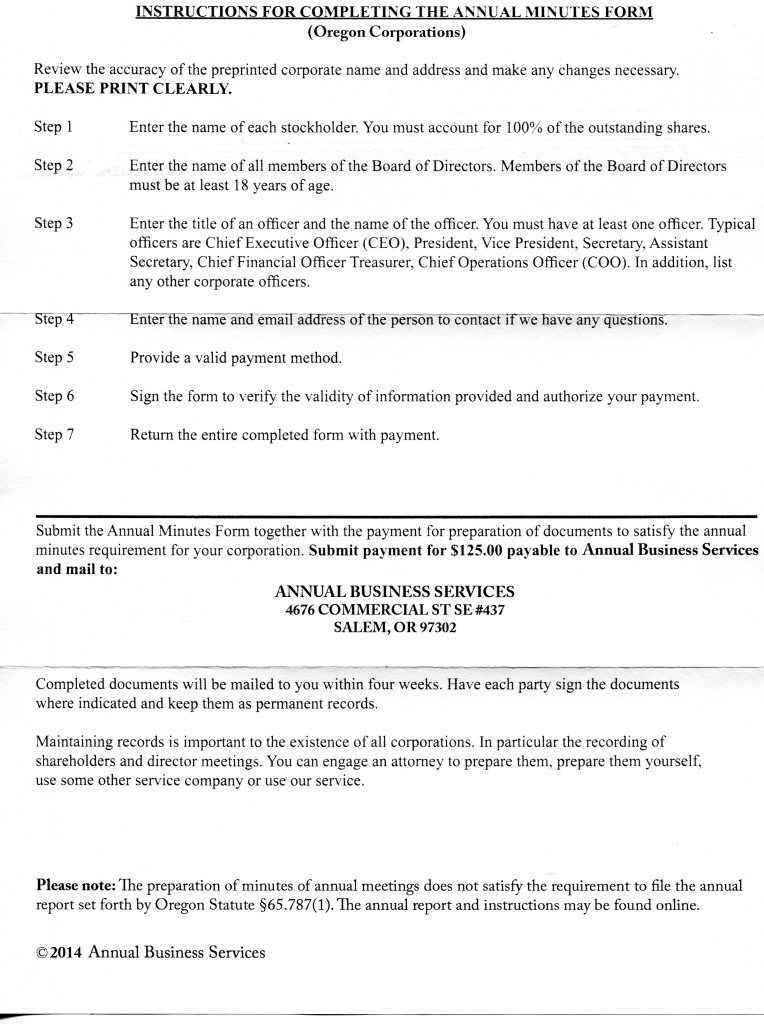 Other companies with this, or similar, scams are "Corporate Compliance Solicitation," "Corporate Records Services," or "Compliance Services." NCR lists many of these scams and has a link to each Secretary of State's website talking about these scams.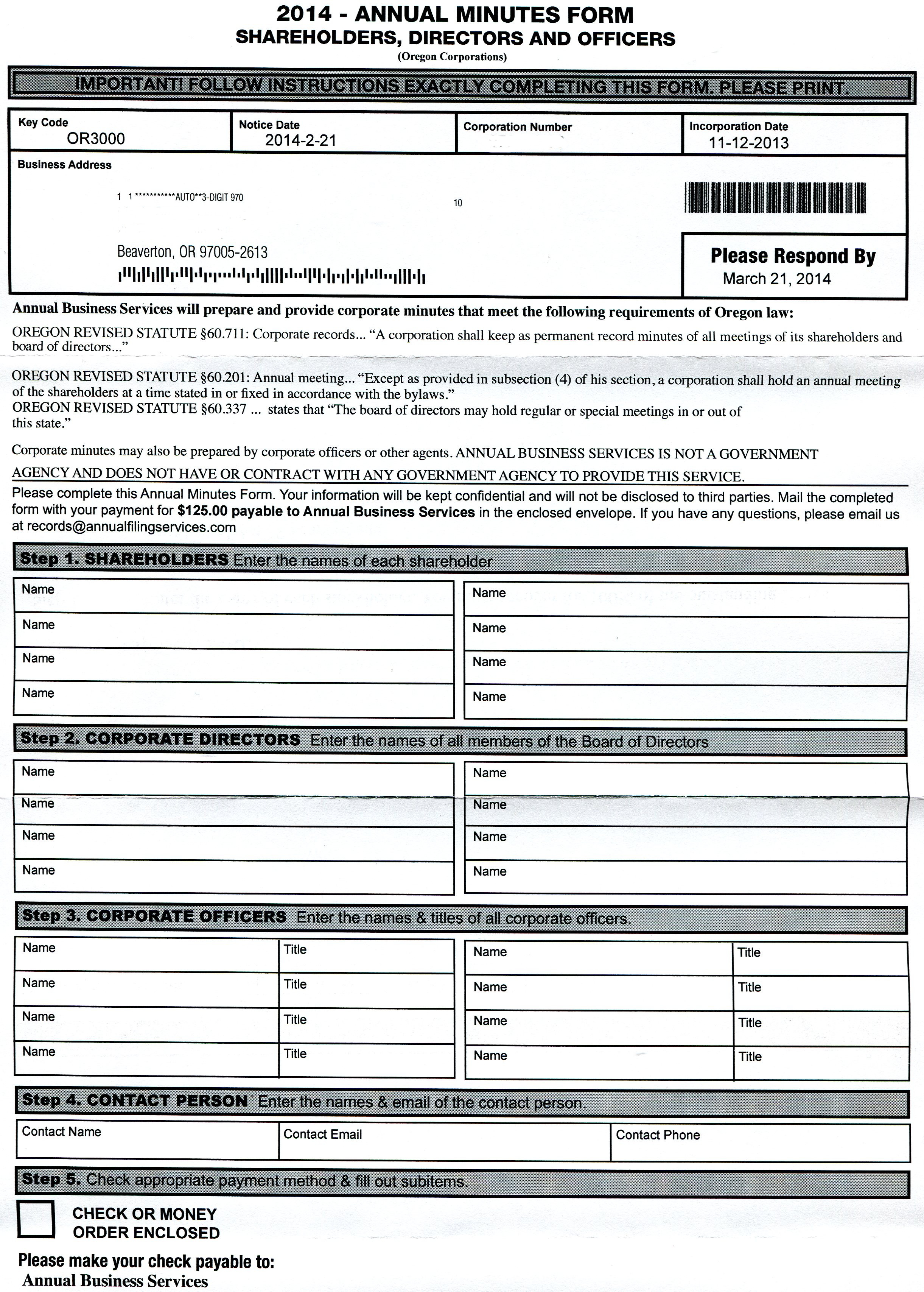 The Oregon Secretary of State is well aware of this scam. They state:
"Despite its appearance, the Annual Records Solicitation Form (PDF) solicitation was not sent by the Secretary of State Corporation Division. It is neither authorized nor sanctioned in any way by the state of Oregon.
Official business correspondence from the Secretary of State Corporation Division always contains these elements:
An image of the Oregon seal.
The words "Secretary of State Corporation Division."
Our phone number: 503-986-2200.
Corporations registered to do business in Oregon are required to maintain records and hold annual meetings of shareholders. However, they are not required to file them with the Secretary of State Corporation Division."
Note that an updated side bar on the Oregon Secretary of State's web page points out another common scam:
"Attorneys for The Mandatory Poster Agency Inc – the company behind this mailing – have contacted the state of Oregon to maintain the solicitation is a legitimate service. The Oregon Department of Justice continues to take complaints from businesses. The Corporation Division maintains its warning that bus​​inesses should read the solicitation carefully to avoid being misled.
The attorney's letter (PDF) states that customers who ar​e dissatisfied with the service are guaranteed a full refund upon request. To request a refund, send your written request to:
The Mandatory Poster Agency Inc
dba Corporate Records Service
6323 W Saginaw Hwy Ste E
Lansing, MI 48917
records@corp-records.com
If The Mandatory Poster Agency, dba Corporate Records Service, fails to issue a refund as requested, please contact the Oregon Department of Justice, Financial Fraud and Consumer Protection Section at 877-877-9392."
The Better Business Bureau webpage reports that The Mandatory Poster Agency "sells" (in a threatening manner,) Labor Law posters. Their literature states that the posters are mandatory and provides a handy form to order some at prices in the $300 range. These posters are usually free from your local state labor agency though. The letter looks official just like the Compliance scam above. Based on the fact that the company is using the same tactics, it's obvious that they know they're scamming. It's also just as obvious that new businesses are falling for it.
Other states posting alerts about these scams are:
Delaware
Florida
Indiana
Mississippi
North Carolina
Ohio
Pennsylvania
Tennessee (from "Tennessee Council for Corporations")
Washington