There are few foods that elicit the passion that a good steak can. There are even fewer foods that can have their apparent quality "raised" by proper preparation and spices. Add in the number of different cuts of meat, hundreds of cooking methods, and proper steak preparation can practically become a religion upon itself.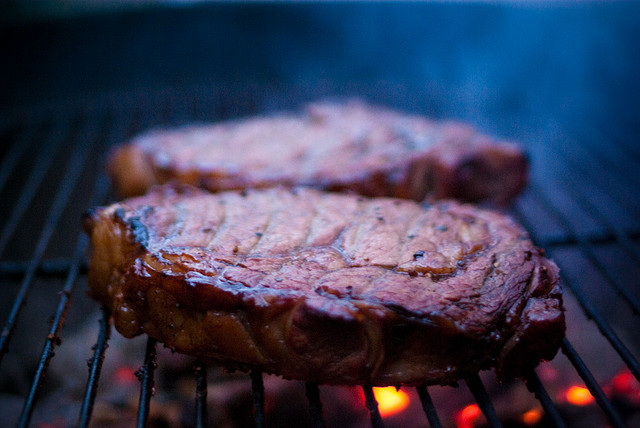 Every good cook has their own preparation style, my personal favorite is pretty simple but I'm not above shamelessly using someone else's style. Celebrity Chef Alton Brown has two great styles, grilled "with out the grill", and his more famous "Cast Iron Steak" recipe. Another popular cooking style was published in Cooks Illustrated Magazine.
But what really makes steak good is the seasonings, or in many cases, the lack of seasonings. Most cooks like to go with the basic, salt, pepper and "garlic if you really need it," seasonings. Especially if the quality of meat is excellent in the first place. But if you want to mix it up a little, or have a cheaper cut of meat you'd like to fancy up a bit here are some great options.
*Note; cooking instructions have been left out for each recipe. Feel free to use one of the great ideas above. Just substitute the following ingredients.
Each recipe below assumes 1 1/2 to two pounds of meat. Comment below with your favorite steak seasoning recipe!
Basic
"Generous amounts" of Kosher Salt – use more then you think nesseccary. Salt should cover the meat to the edges.
Fresh Ground Pepper
Brazil (Garlic)
1/2 cup balsamic vinegar
1/4 cup soy sauce
3 tablespoons minced garlic
2 tablespoons honey
2 tablespoons olive oil
2 teaspoons ground black pepper
1 teaspoon Worcestershire sauce
1 teaspoon onion powder
1/2 teaspoon salt
1/2 teaspoon liquid smoke flavoring
1 pinch cayenne pepper
Brazil (Northern)
6 cloves garlic
2 tablespoons extra virgin olive oil
2 tablespoons sea salt
1 teaspoon white pepper
Canada (Montreal)
(This is essentially the famous Mccormick's famous steak seasoning)
2 tablespoons paprika
2 tablespoons crushed black pepper
2 tablespoons kosher salt
1 tablespoon granulated garlic
1 tablespoon granulated onion
1 tablespoon crushed coriander
1 tablespoon dill
1 tablespoon crushed red pepper flakes
Canada (Quebec)
1/4 cup soy sauce
1/4 cup real maple syrup
ground pepper
1 tablespoon beef bouillon concentrate
Chinese (Kung-Pao style)
2 tablespoons Hoisin
1.5 tablespoons sriracha
1 teaspoon toasted sesame oil
2 cloves garlic
1 bunch scallions, minced
1 ounce white vinegar
English (Pub Style)
1 packet of beef base (soup bouillon)
2 ounces olive oil
1.2 teaspoon sea salt
1 clove garlic, minced
1 shallot, minced
English (London Broil)
5 large garlic cloves
1 teaspoon salt
1/4 cup dry red wine
1/4 cup balsamic vinegar
1 tablespoon soy sauce
1 teaspoon honey
Japanese (Hibachi)
1 teaspoon salt
1 teaspoon black pepper
2″ (5 cm) daikon radish
1½ Tbsp. oil
2 cloves garlic
2 Tbsp. dry sherry
1 green onion/scallion for garnish
3 Tbsp. ponzu sauce
Japanese (Teriyaki)
2 tablespoons dark brown sugar
2 tablespoons mirin
2 tablespoons sake
2 tablespoons soy sauce
Korean (Kalbi)
¼ cup soy sauce
3 tablespoons sugar
2 tablespoons sesame oil
½ onion
1 tablespoon garlic
1 green onion
¼ tablespoon black pepper
Malaysian
1 tablespoon shrimp paste
1 inch ginger, grated
1/2 inch turmeric, fresh, grated
2 limes, zested and juiced
1/2 tablespoon coconut sugar
1 stalk lemon grass, minced
2 cloves garlic, crushed
1 dried red chili
Mexican (Carne Asada)
1 teaspoon salt
1 teaspoon ground black pepper
2 teaspoons cumin
2 tablespoons chili powder
1 tablespoon dried ancho pepper, ground
2 teaspoons dried Mexican oregano
2 cloves garlic
1 lime, juiced
1/4 cup cilantro
4 tablespoons dark Mexican beer (optional)
Mexican (Tequila Carne Asada)
1/2 cup tequila
1/2 cup lime juice
1/2 cup lemon juice
1/4 cup orange juice
4 cloves garlic crushed
2 teaspoons black pepper
1/2 teaspoon salt
North Africa
2 tablespoons dark chili powder
1 tablespoon harrissa paste
1 orange, zested and juiced
2 tablespoon salt
1 teaspoon olive oil
Spanish
2 tablespoons sea salt
1 tablespoon smoked paprika
2 oranges, zested and juiced
2 tablespoons chopped flat leaf parsley
Tex-Mex
1 cup ancho chile powder
1/3 cup smoked paprika
3 tablespoon dried oregano
3 tablespoon dried mustard
3 tablespoon dried coriander
1 tablespoon cumin
1 tablespoon salt
1 tablespoon black pepper
zest of 2 limes
Other #1
1/3 cup Honey
1 tablespoon whole seed mustard
1/3 cup oyster sauce
Other #2
1 teaspoon Worcestershire sauce
1 teaspoon seasoning salt
1 teaspoon cajun seasoning
1 tablespoon granulated garlic
sprinkle oregano