To recap, my Motorhome is broken down in Ogden, Utah. I live in Portland, Oregon. It's roughly 1000 miles between the two. I already went down to help see about repairing it, but we found a bent rod and the piston is busted and burned. That was my second trip to Ogden.
A few weeks later I'm starting to think about this again. My mother starts calling around and finds that my Uncle has a truck powerful enough to two the motorhome on a trailer my Cousin owns. The kicker is that it had to be done THAT weekend as he was going to be busy for the next month.
I contact the guy who's place it's at and let him know we're coming down. He's out of town, but lets his wife know. The plan is that I drive down to Klamath Falls, spend the night, drive to Ogden. Spend the night in the motorhome, load it up and drive back to Klamath Falls where the Motorhome will be dropped off at my Cousins who will put the new engine in it.
So I leave Portland at about 9pm. I'm using the IM app on my cell phone to update my location via Ping.FM and keep everyone in the know. Now, I absolutely love the drive between Portland and Klamath Falls via Bend. I don't know why, but I feel it's a great little trip. The scenery is awesome, high desert, mountains, cities, small cities, old barns and buildings, rivers, canyons, and LOTS of deer.
So many deer that at about 2am and 75 miles north of Klamath Falls I simply didn't feel safe driving on the road any more. They were jumping out in front of me and I did come fairly close to a wreck once. So I pulled over in either someone's driveway, a country road, or maybe just a wide spot in the road and took a nap. I was woken up about 5am by a truck, but felt well enough to drive in to Klamath Falls again.
I stopped at the same bakery again, then my Aunt and Uncles house. Being as it was 6:30 and he's retired, the bum wasn't up quite yet. When he did get up, we changed the oil in the truck just in case. Got the trailer, found that the heavy duty winch was missing and the spare tire had a huge gash in it so it wouldn't take air anymore.
Whatever, we're off. We stop in Bly, Oregon to pick up a bigger and more powerful winch from a friend. And we're off! I'm enjoying the road between Klamath Falls and Lakeview due to the scenery. And then from Lakeview to Winnemucca. And then Winnemucca to Elko. Elko to Salt Lake City, and then to Ogden, where we arrived about 1am.
Now, the motorhome was parked in an alley. But the road it butted up on is a two lane each direction with turning lane in the middle type road. And the motorhome is locked. I start banging on the door to the house to get the keys to it and apologizing up and down once his wife opens the door. She was friendly about it, but obviously hurried back to bed.
My Uncle is looking at this, and thinking about it. He decides that we'll just load the motorhome up now before traffic gets too bad. So we unhook the trailer in the parking lot across the street. Throw a tow chain on the motorhome, and pull it out of the alley up into the same parking lot. This parking lot has an angle on it, so we put the motorhome at the top side, and the trailer at the down side.
Pop the break on the motorhome and suddenly is going towards the trailer, UP and over the hump. But… the trailer hitch drags on the ground and sticks the motorhome halfway on to the trailer. Not a problem, we get out the winch only to find out that neither one quite has the power to pull the motorhome the rest of the way on to the trailer.
Much cussing and swearing happens. We have to keep the truck hooked to the trailer so that it doesn't slide. So I go back to the house and attempt to knock on the door to see if we could borrow their early 90's Chevy Suburban to get the motorhome the rest of the way up. They're not answering the door.
We find a come-along in the box on the trailer. Hook it up and start jacking on it. It tightens, but the motorhome doesn't move an inch. So I dig into the Triple A for motorhome info and call them to see if they could get a tow truck out to help us. They work on doing so and just as we're about to get someone, the motorhome starts moving.
Apparently my walking around inside and shaking the motorhome caused it to loosen just enough for the come along to start working. At this point I'm a bit scared. I'm in an 8000 pound vehicle being winched on to a trailer that only has six inches of clearance on one side and about a foot on the other. And, is only about 8 inches longer then the motorhome itself. PLUS no power steering. If this thing falls off the trailer, it's done and I'm probably seriously injured.
Some how it gets on safely. And is tied down. We head down the truck stop to fill up and take a nap in the motorhome. My Uncle decides as we get down there that he wants to go ahead and get out of town before rush hour hits Salt Lake City. It's coming up on 5:30 am at this point so I agree as it's going to take 60-90 minutes to drive from Ogden to Salt Lake.
We start driving. And driving. And after getting through Salt Lake, another stop at a truck stop for some food and gas top off. Then we KEEP going. Some where along the line here we get a call from my Cousin. He doesn't have a place to put the motorhome, nor the time to work on it due to his new job. I'm soon taking 15 minute cat naps in the passenger seat. We stop for lunch and gas in Winnemucca, Nevada.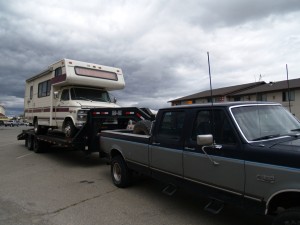 This was taken outside of the Flying Pig BBQ in Winnemucca. The food was pretty mediocre, but I can't really expect anything better when in the middle of the Nevada desert.
The next leg of the trip was Winnemucca to Lakeview. This is 240 miles. With one very small gas station in the middle at Denio Junction. Luckily the gas station is ran by the bartender inside so you can get gas pretty late. But trucks like us coming through and loaded down need that gas there. And the locals of course.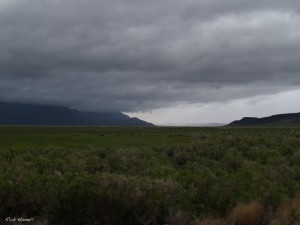 As we were pulling in to get gas there, we found another guy hauling cars doing the same thing. He only topped off a couple of gas cans. This guy was crazy though. One of the tires on his trailer had some sort of bubble coming out of it. And he was driving fast. The hills along highway 140 to Lakeview are dangerous if you're going to fast.
We caught up with this guy in Lakeview and I noticed that he had severely damaged the cab of his pickup truck when backing his trailer up. Add in the tire problem and the way he'd been driving before and I'm surprised we didn't have to stop to help him out of a ditch.
Anyways, made it into Klamath Falls about 9pm. After a quick bite to eat, bed came calling. I was up again at 6am and snuck out of the house so as to not wake anyone up. As it was early still, I took the opportunity to check out a couple of locations I had seen from the train. Nothing to special was seen, until I got back up to LaPine. I found this old house in a pasture. It was obviously being used as a storage shed/horse barn in the recent past.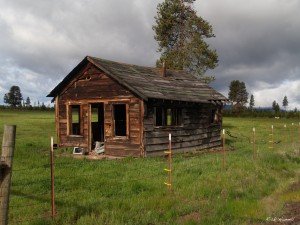 Another stop further up the road was Petersen Rock Garden.
But finally, I got home again. My Aunt and Uncle decided to bring the motorhome up to Portland a couple of days later. I was going to have them put it into my yard, but decided to send to my brother's house instead.
Unfortunately, I still needed to get the engine. So…. a fourth trip to Klamath Falls with my dad, my father in law, and my dad's pickup truck to get it.
This little adventure touched every member of my family it seems. I'm sorry that the original trip didn't go through, I was really looking forward to visiting Roswell, San Antonio, and maybe Hollywood/LA a little bit too. I didn't always enjoy the next three trips, and was cursing quite a bit at times.
But it was an adventure!