So I finally arrived home. My motorhome is broken down in Ogden, Utah about 800 miles away.
After about a month, maybe two, I'm starting to get itchy about getting it taken care of. I call my cousin up who expressed interest in trying to get it fixed and send him a chunk of money to buy parts. The guys house it's parked at is a mechanic too and would help. He diagnosed it, and as I later found out, was able to drive it around the block to park in the alley behind his house.
So my cousin makes arrangements to head to Ogden from Southern Oregon. A trip of about 700 miles each way. On the spur of the moment (and still unemployed,) I decide to go down, meet up, and drive the motorhome when it's fixed. My cousin was planning on driving it and having his wife drive their car home, so I thought it'd be a bit easier for me to help and pay for gas/food/etc.
Everyone agrees this is a great idea. Or possibly everyone was just being nice about my spur of the moment idea.
So, a bit of research later and I find that the Bus is cheapest, even though it takes about 18 hours to get there. I pack up, take a couple of large novels to read. At the bus station I forget my cell phone in the car and board without it.
The bus ride was… entertaining at times. I had a seat to myself until Boardman when I had to share with some kid going to see his mother in Salt Lake City. A 20-something girl kept tormenting a little Mexican kid, while an older Asian woman joined in the fun after quite sometime. I think the 20-something was mentally challenged as I seriously thought she was going to start hitting the kid at a couple of points.
As the bus drove to the different bus stations in each town, I got to see quite a bit of each of the towns. Unfortunately most of it was from the bus window, and a good portion was at night. The stop over in Boise was nice, I walked around a few blocks and watched kids cruising down the street. Annoyingly, we drove right by a Chevy Dealership in Twin Falls. And they even had a motorhome of about the same vintage and make sitting over near the repair bays.
The bus finally arrived in Ogden at 1am. The bus driver almost didn't get me my bags, but I blocked the baggage door before he closed it. At that point, I was just dead tired. I had napped on the bus as well as can be done in those uncomfortable seats. I thought about just sitting on the ground and sleeping, but the amazingly comfortable bed in the motorhome beckoned.
I started walking. And walking. And then walking some more. After about 45 minutes I realized I was going the wrong way. It took me several blocks to realize that I was passing landmarks that I saw when I was here the first time – on my long Sunday stroll. I got turned the right way, as I was going towards my destination I found Ogden's Historic 25th Street. Which, had several bars, several dining establishments, and several even had hours posted for Sundays!
I also found a strip bar, and pretty sure I saw a prostitute walking along the street. This was not the town I had seen two months ago!
I finally made it to the motorhome, (and surprised to find it parked in the alley,) and fell asleep for a couple of hours. I thought I got to the motorhome at 5am, but I can't believe that it took me 4 hours to walk that far. Even half asleep. Interestingly, I was awake again at 9am and very wide awake.
After scrounging for breakfast at the (1960's size) super market across the street, I found that my cousin hadn't shown up yet. Not too big of deal, it was a 14 hour drive for him after all. As the motorhome had been moved, wireless access was now impossible. Stuck, in Ogden, again. This time with no communication technology beyond semaphore, I bravely struck out for parts unknown in an attempt to gain such access.
Two hours later, on 25th Street, I found a small cafe that offered Internet access. Ironically the movie theater and "lifestyle" shopping mall just down the street offered access too, but the signal was too weak to get anything no matter where I moved. So I had an unmemorable sandwich for lunch, and was able to get enough wireless signal to let my wife know I was OK, and to tell her about the phone via IM. And to let her know about my communication challenges.
I wandered town for a bit more then headed back to my four wheeled home away from home. I read, wrote on my novel, wandered around, ate, read some more, visited the strip bar that I saw the night before just to say that I've been in one in Utah. Finally my cousin showed up, we talked about what needed to be done on the motor home, and I went back down to find some place to eat.
The next day, we get a few parts and then start working on the motor home. Front seats are taken out. The engine cowling is loosened, and we start breaking down the engine to replace the water pump and something else. As we're doing so, I see one of the rods is bent. Get into it and there we are, a blown cylinder. After a round of general cussing, and then shoving all the parts back into the motor home, we go for beer.
But never fear, cousin has an engine to put in so we don't have to rebuild the old one. Bad news, the motorhome is still 700 miles away from the Engine.
So next morning I beg a ride back to Southern Oregon. I offer to drive, but my cousin is too much like me in that I prefer to drive. We make fairly good time getting to their house about 9pm or so. His wife and kid get unloaded and bundled into bed, then he takes me down to the Train Station then heads home.
All the trains to Portland are done for the night, but there is one bright and early at 8:30 or so. So I find a cheap hotel down the road and sleep in a real bed. Across the street is the old Ford Dealership building, which has some Egyptian Motifs on the front. I remember this building was talked about in an Art Appreciation class I had to take in college. I just don't remember why it was important.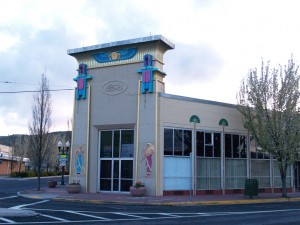 I got breakfast at a little bakery/coffee shop. They have a huge kitchen which looks bigger then the dining area, and were making fresh pastries of all types. The smells alone were worth visiting the building.
So I waited around in the cold outside the train station. It really wasn't that bad, but in Early Spring, the wind off the lake gets everywhere. Plus there was fresh snow in the nearby hills.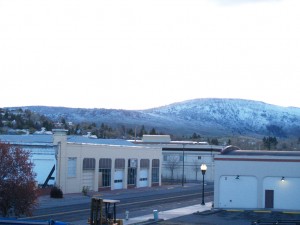 The train station opened, and those of us foolishly waiting outside were allowed in out of the cold. About 30 minutes later the train arrived. Now, I've never really ridden a train before. I've gone on a couple of different Dinner Trains such as the Mt. Hood Rail Road.
My initial experience was slightly ruined by an EXTREMELY fat guy who took up a good portion of my seat in addition to his who was also eating tuna fish with crackers. The smell of the tuna fish drove me to take my camera up to the Scenic view car, for which I'm glad I did.
A couple of people from the Klamath County History Museum were in the scenic car giving talks about what we were seeing. I knew most of what they were talking about already, but it was still pretty interesting. One of the things only viewable from the Train is a place called Root Beer Falls.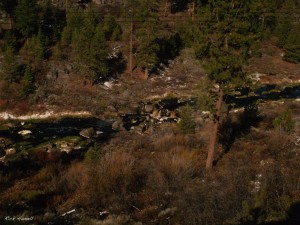 The water is a bit dirty, but is apparently very nutrient rich which gives it the frothy whiteness. I want to get back here, but just can not find exactly where it is at all. Even then it's going to take some hiking to get in.
As we continued, the train started climbing into the mountains. It was a pretty gradual climb, but the fresh snow the night before was very nice. We also passed Clear Lake, but couldn't get a good view of it due to the trees.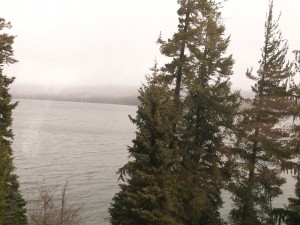 Saw some other interesting things, like a covered bridge (didn't expect it, so didn't have the camera out,) old and historic train stations. The Willamette River, Oregon City, and Downtown Portland.
So I'm finally back home after another 2000 miles trip.
But the Great Motorhome Story is not finished yet.